A celebrant that's a bit of a romantic and puts you and your love story at the heart of your wedding.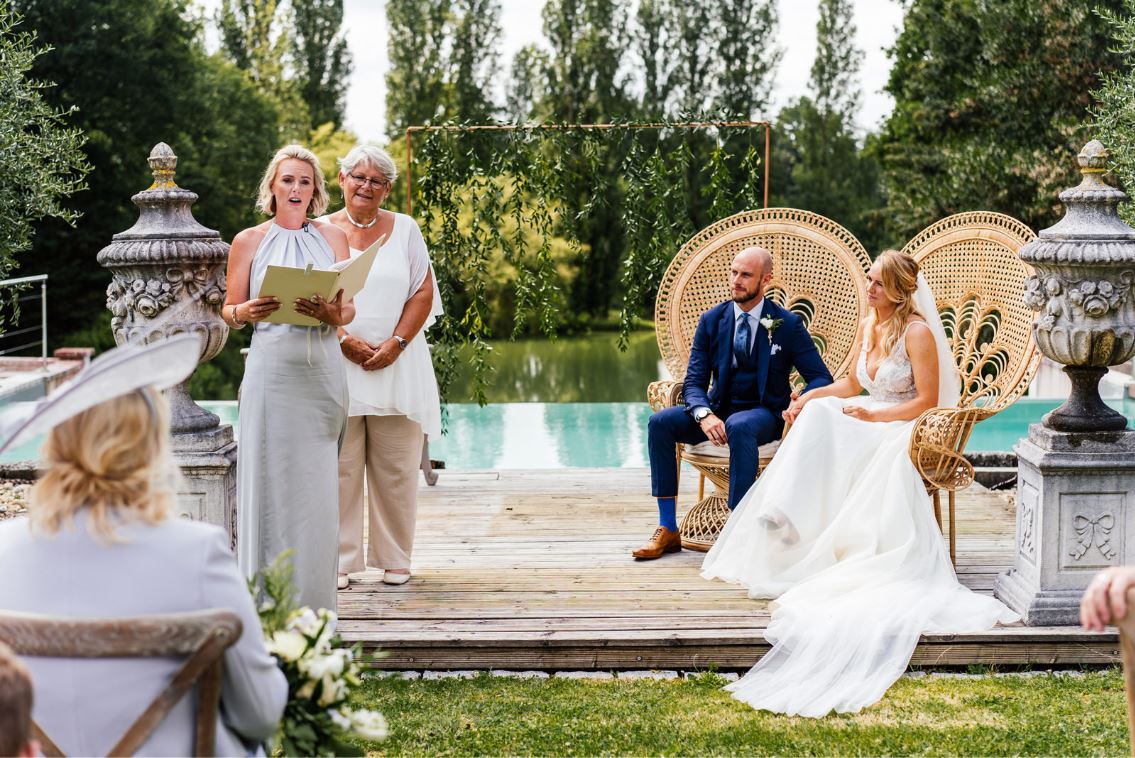 My name is Gaynor McKernan and I'm an English Celebrant based in south west France (16210).
Even though I've been a celebrant for seven years, I get excited about every wedding I conduct. I like to work closely with my couples and by taking their wants and ideas and adding my knowledge and experience, we create a bespoke ceremony that's meaningful, beautiful and has that all-important sprinkling of humour. That said, there are also times with a certain degree of gravitas: this is a wedding after all.
'Gaynor did an amazing job conducting our ceremony, from the beginning working with Gaynor was incredibly easy... she listened to exactly what we wanted and tailored our ceremony to meet our wishes. She has such a warm personality that made everyone feel at ease. She was a joy to work with!' May 2019
I've many names: Gaynor, wife; mum; Gigi (my grandchildren's name for me!); friend; celebrant; movie, food, book and lover of all things water-related; traveller and adventurer. The skills, knowledge and experience I've gathered over the years in my private and professional life (adult educator, trainer, tutor, lecturer, ESOL teacher, manager, and dreaded assessor!) give my couples total confidence in my professionalism as well as enjoying my calm and friendly way of working.
"Gaynor was our celebrant for our wedding at Chateau Du Doux and we cannot recommend her highly enough. From the whole build up Gaynor was really helpful with the vow planning and ceremony she made it so easy and stress free, to the wedding day, she made it all run smoothly and the actual ceremony the right mix of personal, romantic funny and traditional, thank you! " June 2019
I'm a bit of a romantic so I put your love story at the heart of your ceremony. I like to get to know my couples and guests often comment on how personal my ceremonies are, as well as how warm, sincere and heartfelt my delivery is. This isn't surprising really as I'm a Liverpudlian and I love people; you'll be one of the family before you know it.
We really want to thank you so much for delivered such an incredible ceremony! It was amazing how you calmed me down after my walk down the aisle, how you perfectly balanced the sentiment and the humour and laughter. I actually always imagined myself to cry my makeup off during the ceremony, but thanks to you it didn't happen! And instead, of all the pics, we were laughing in most of them. All our friends said that was one of the best ceremonies they've been, that you did an amazing job! A lot of our friends cried during the ceremony. It was just perfect, more than perfect....Words cannot express our gratitude. We just want to let you know it was an honour working with you and we feel very happy and lucky to have you as our celebrant!!
As I said, I'm based in south west France but I'm very happy to travel for your wedding. So drop me a line to see if I'm available, I'll give you a quote and we can arrange a chat. There'll be no hard sell - (that's not my style). It's just the chance to answer any questions either of you have, to find out your thoughts and ideas for your ceremony and to start the process of getting to know you a little.
A bientôt