Ian Wallace - A very French Wedding
To share the excitement, joy and fun of a wedding day but more importantly to record this momentous occasion with beautifully simple, honest and evocative images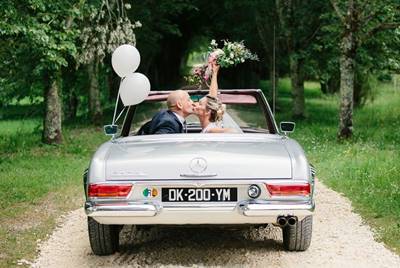 Hello, I'm Ian Wallace and I want to be your wedding photographer. Why choose me to record your very special day? Let me give you an insight into what inspires me and why I set up A Very French Wedding.
I have worked as a professional photographer for more than 15 years both in London and Sydney, where I shot features for magazines, books and advertising clients as well as weddings for friends and family.
However, since moving to Poitou Charente in France, I have decided to concentrate on wedding photography.
I would like to spend my time working with people who are about to embark on the beginning of a wonderful adventure together. To share the excitement, joy and fun of a wedding day but more importantly to record this momentous occasion with beautifully simple, honest and evocative images.
In my career I have shot for a huge number of top magazine titles where I honed my skills working with models and hair and makeup artists on frantic paced shoots for highly critical clients. I am very used to working under tremendous pressure, essential qualities when shooting weddings. I love the challenges this creates and find tremendous pleasure in capturing the most poignant moments, especially those that are not posed and when peoples true feelings tell a more complete a story.
Another important part of a 'job well done' is ensuring the relationship between myself and my client is one based around trust, honesty and good faith, all vitally important to me.
I love meeting and getting to know new people and if you take time to read through a few words from former clients, I hope you will feel confident that I can make your day just that little bit more special.
Pascale and Chris (2016)"Uncle Ian you are without doubt my favourite ever Uncle! Thank you, thank you thank you for all your patience, jokes and of course your amazing talent. Chris and I had such an amazing day and the pictures are just awesome" - Pascale
Bec and Paul (2015)"thanks Ian, not just from Paulie and myself but from our parents, family and friends for such gorgeous pictures of our wedding day, they will be a cherished part of our lives forever" - Rebecca