Kevin Baker Celebrant
I'll help you fulfil your vision of the perfect day. And if you're not clear what you want, I'll be on hand to guide you along the path to a memorable and wonder-filled occasion.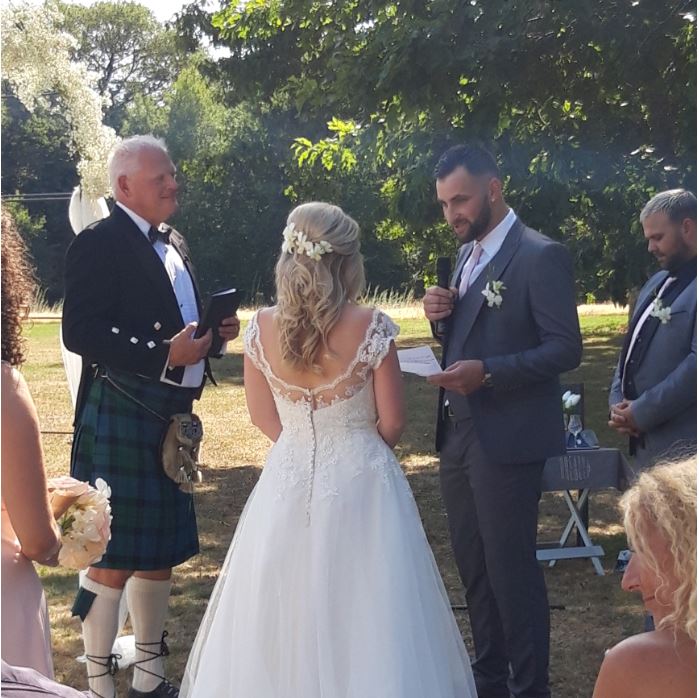 There are times in life when something big is happening and we're not quite sure what to do, or how to handle it. Like getting married! Or we have a very clear vision of how we want it and we just need someone to make it all happen. These are the occasions when we most need the help and support of someone experienced, to create and conduct a relaxed and memorable ceremony. Someone who is known for their calm authority and organisation, that engages an audience with confidence and warmth, sincerity and humility and, when relevant, humour. And always maintains that personal touch.
My aim is to work with you to create a ceremony that truly reflects your personality and beliefs and fulfils your vision for your special occasion. So, if you are facing a decision about how best to celebrate your life event, contact me for a no-obligation chat and I'll help you decide. I am passionate about being a Celebrant and love relationship-building and creating a bespoke wedding ceremony for couples, regardless of background and beliefs.
I'll help you fulfil your vision of the perfect day. And if you're not clear what you want, I'll be on hand to guide you along the path to a memorable and wonder-filled occasion. I create and conduct ceremonies in English and French People say the nicest things…

"Kevin was the celebrant at our wedding in 2019. I can't recommend him highly enough. As a bride, the preparations are so stressful and to have Kevin by your side for the most important part was so reassuring and amazing. He went above and beyond to make our day so special. He told our story in such a beautiful way, his attention to detail for the little things was perfect. On the day he didn't just turn up and conduct the ceremony he took the time to make sure that the bridal party, groom's party and guests all knew their roles. He chatted with my parents, friends, relatives. It wasn't just a job for him, he invested so much kindness and care into every single person and detail. He made us and our guests so at ease. He took all the stress away so I could enjoy my perfect day knowing Kevin had everything sorted. We were truly blessed to have had Kevin as our celebrant"




Kevin à célébré notre mariage en août, ça s'est très bien passé.
Grâce à son professionnalisme, il a su réduire mon stresse.
Je le conseille vivement - Ambroise (& Stephanie) - August 2019

At my friend's wedding Kevin was the celebrant. He was brilliant, just the right amount of wit and charm. It was all about the happy couple and he told their story like he'd known them for years. I would highly recommend him. - Alison - Vienne, France