Le Vieux Chateau Le Renouard
" A most peaceful paradise in an exquisite Normandy valley. "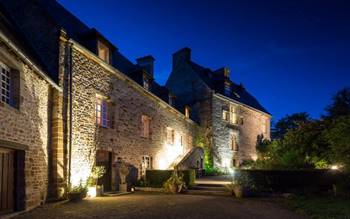 First built more than 1,000 years ago this Chateau was home to 12 generations of the Balliol family who occupied the house for 700 years.
During the French Revolution, Charlotte Corday lived in the Chateau for a time with her Uncle but after she was guillotined for the murder of Marat, the family no longer resided here.
The Chateau was occupied by the German army during WW2 and in Autumn 2014, after 2 years of renovations by owner Donna McDougall, she opened it's doors for guests to experience the beauty and romance of her historic home.
Now sharing this beautiful Chateau with five star reviews, to offer you a wedding with history and grandeur set in the picturesque valley in Le Renouard in Normandy.
The Chateau can accommodate 12 people on a B & B basis for your special celebration of up to 50 people seated and 80 people for cocktails and buffet. Other guests can stay at various local Chambres d'Hotes within 1km radius of Le Vieux Chateau.
There are four spacious and beautiful rooms all with their own en-suite bathrooms/ shower rooms. Chambre Rouge with a dressing room and view towards the church on the 1st floor. Rocking horse bedroom with a fabulous 4 poster bed and the Dragon's room which also has a four poster bed and spectacular views across the valley are both located on the 4th floor and are approached via the turret staircase. Also a beautiful Chambre D'Or with a four poster bed and shower room on the 1st floor. There is also two small attic rooms which can sleep four.
Le Vieux Chateau sits proudly at the head of the beautiful valley of Le Renouard. Offering you and your guests ideal scenery for walking, touring, cycling, horse riding and much more. Situated just 2 hours from Paris your guests can enjoy a trip to the capital, a visit to the beautiful Monnaie Gardens at Giverny. Plus the Bayeux Tapestry and world war two landings are all within 90 minutes from the Chateau. The Chic resort of Deauville and Honfleur are only an hours drive away.
Ideal for car travel from the UK as Le Vieux Chateau is less than one hour from the ferry port at Caen and three hours from Calais. While in this beautiful region of France, sample the Camembert, Cider and Calvados from the numerous local farm producers and relax for a few days in the stunning beauty of the Pays d'Auge."
"I can recommend this place to anybody who wants to experience the life in a castle, rooms redecorated with great taste, a breakfast served by the owner with freshly brewed coffee, fresh bread, camembert from Normandy. The place is just super. To make things better it is located in a very nice part of Normandy."
This wedding venue would be ideal for those looking for an intimate wedding or for a small wedding party of up to 80 guests, with extra accommodation nearby.