"You'll be in safe and experienced hands, yet with creativity at the heart."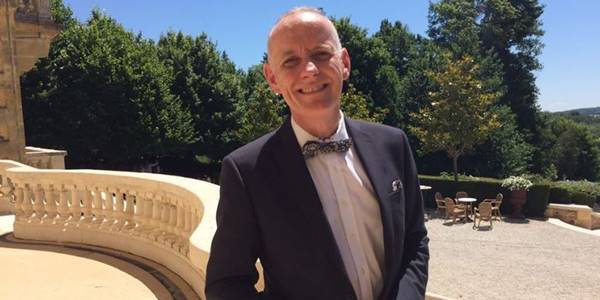 Piers Lane is a wedding celebrant living and working in France. For a long time, Piers was a church minister, during which time he took many weddings and was always known for designing and leading meaningful, contemporary ceremonies which allowed couples to express themselves in ways which were very personal to them.
This background means that choosing Piers for your wedding ceremony will give you a confidence that you are in highly experienced and creative hands. Piers is no longer a minister and is more than happy to design and lead a ceremony for you that reflects your beliefs, whatever they are – be they spiritual, religious, humanist or atheist.
Piers always enables the couple to have as much creative input as possible, as he believes that the best ceremonies are those in which the couple have invested themselves, their ideas, their stories and beliefs. You'll find him easy to talk to, a mine of ideas for your ceremony, and a source of wisdom for how to enable your day goes well. His ability to work with an audience is based on years of experience, as well as his warm personality and sense of humour, which makes him a great choice to act as Master of Ceremonies as well as Celebrant – ask him about this.
Piers has had a rich experience of life. As well as previously being a minister, he has been a college lecturer, a script writer, a voice over artist and has even given stand-up comedy a go! He currently plays drums in a jazz/swing band (also available for your wedding). He works regularly in the UK coaching and training clients from organisations such as the University of Sheffield and the Royal College of Paediatrics and Child Health. Highly regarded as a business trainer and coach, he is a professional yet retains a real and down to earth approach.
Master of Ceremonies
If you are planning a reception and speeches, whether formal or not, then you might want someone to act as Master of Ceremonies - to host the occasion, to introduce you to the reception, to announce speeches... talk to me. I would love to help with this aspect of your day.
By the way...
If you are looking for someone who will ensure that your ceremony will be full of warmth, celebration and good humour and who will keep your ideas and personalities at the heart of the day, then why not have a look at his website, www.pierslanecelebrant.eu and get in touch?