Chateau du Raysse
A charming château, full of character, you and your party will enjoy private en-suite rooms, filled with heaps of period features. The views from the rooms and gardens are simply breath-taking, looking over the beautiful rolling hills and green forests of the Dordogne Valley.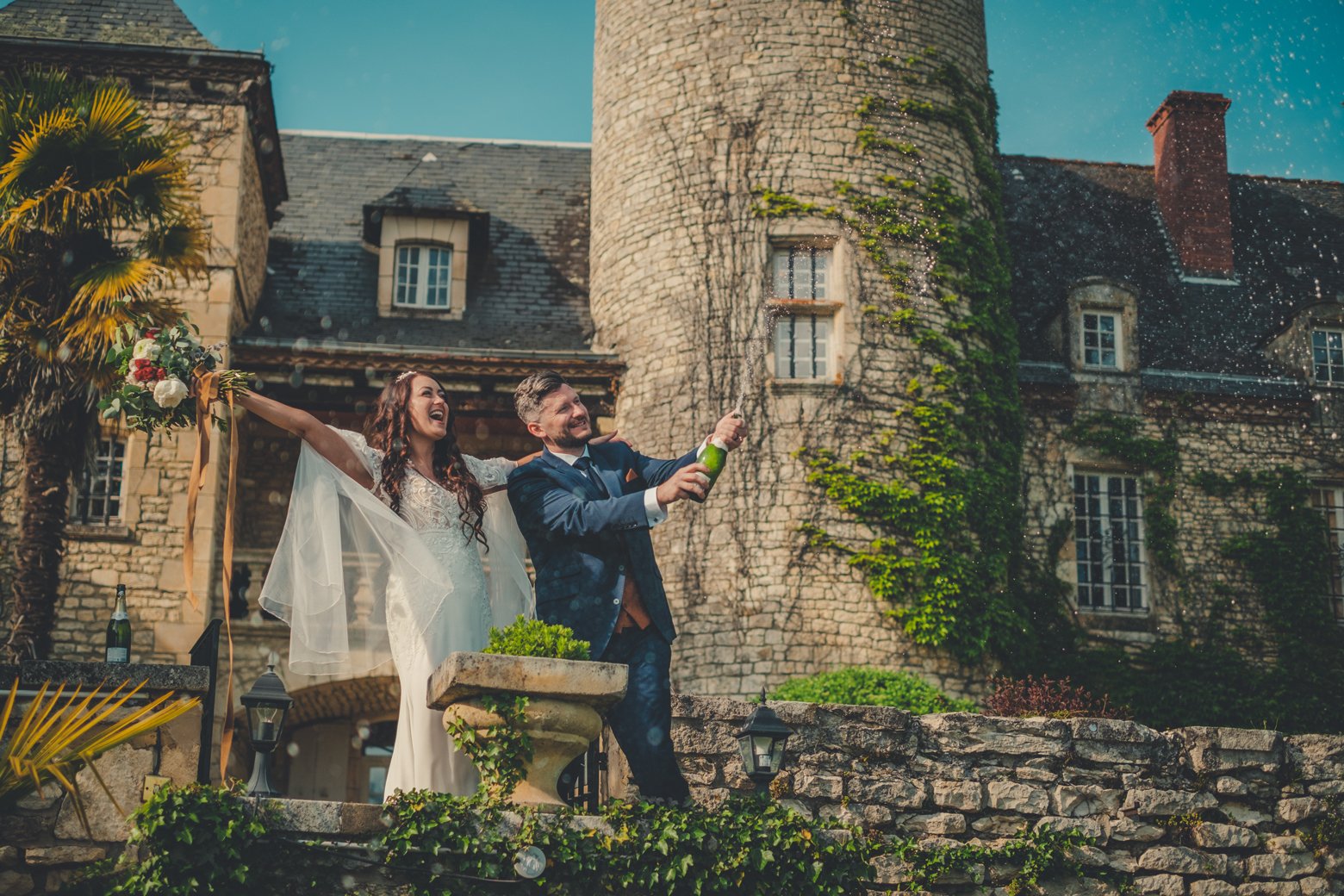 The rental of the Chateau includes complete exclusive access to the Estate. The Estate comprises of the Château, the Maison du Parc and the Pigeonnier apartment. In total we offer 15 beautiful and unique ensuite bedrooms and then another two bedrooms with one bathroom in the apartment. In total we can comfortably sleep 38 adults and additional children.

Your ceremony and reception:

The Estate offers many beautiful options for your celebrations. If you would like an al-fresco celebration then the area under the main balcony of the honeymoon suite is a favourite! There is also the front of the Château which is equally beautiful and then an additional large lawn behind the picturesque swimming pool with views of the hills and valley beyond. There is ample room to erect a marquee which we can help to organise on request.

 Our large hall with its exposed wooden beams can cater for up to 70 guests seated or for larger groups for dancing. It leads out on to an extensive terrace with views of the Chateau.

During your stay, you and your guests can enjoy two kitchens, dining area, library/living room, hall, two swimming pools and beautiful grounds. We can provide children's cots and mattresses in the rooms at no extra cost and several of the rooms are perfect for families.

On the estate there are two swimming pools, surrounded by sun loungers, plenty of grounds to explore and our friendly donkey, Vanille, loves to come and say hello!

For catering and other suppliers, we can help arrange this for you throughout your stay. We can help organise your wedding package and also provide suggestions and support for the rest of your stay as well.

At Château du Raysse we are entirely flexible and so can offer as much or as little support as you require - meaning you have the freedom and flexibility to do whatever you wish to make your stay just perfect.

The area is simply stunning and is within easy reach of Sarlat and Rocamadour as well as all the other local tourist attractions.

There is ample parking on site and you can enjoy any length of stay with us - from two days, to two weeks, we will be happy to help create your vision of a beautiful Chateau wedding become a reality!

Additional accommodation:

If you did need extra accommodation for additional guests, we're lucky enough to have a guest house at the end of the Chateau's driveway which can accommodate another nine guests and we also have lots of hotels and excellent Airbnb accommodation all nearby. There are numerous other properties in the village which are available on Airbnb and there are some lovely hotels in Souillac which is just five minutes away.

If you have any questions, please do not hesitate to get in touch and we will be happy to help.