Simon Roberts - Wedding Caricaturist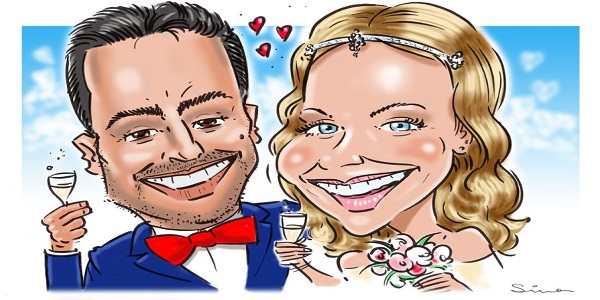 Have you thought about adding some extra fun and humour to your special day, if so how about hiring Simon Roberts.

Simon is an amazing caricaturist based in the South of France with years of experience working at weddings, corporate events and parties across the UK and the South and South West of France.

He is often booked for a 2-3 hour session where he can mingle amongst your guests creating quick caricatures.

Not only is this a great way to entertain everyone but makes unique mementoes to take away of the special day. The caricatures are black and white and A4 size. The colour ones tend to larger with space around them for signing, leaving comments etc.

The champagne reception is always a good time to have Wedding entertainment. As the photographer takes those all important photos, Simon can be mingling and entertaining amongst your guests. These Caricatures will be given to them in a plastic sleeve as a personal memento of the day.

Or, perhaps you would like something a little different at the evening of the wedding. It's always a great way of getting people laughing and entertaining everyone who's not dancing the night away.

'Simon also offers a bespoke service which includes your own personalised stationery, full colour caricatures, that guests love to sign on the day, Wedding montages and an original watercolour painting of your venue.