"Welcome to Château Rieutort, the "Small Versailles" in Hérault."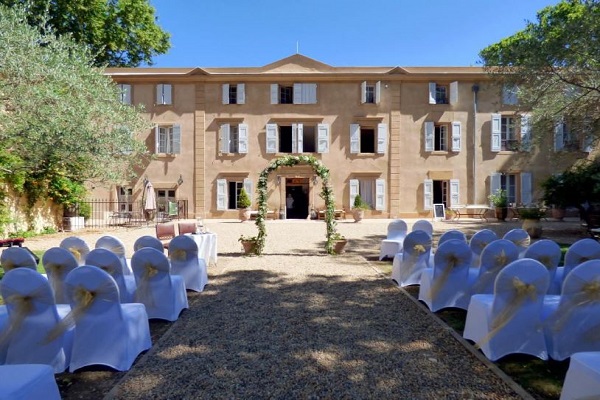 Not each of us was born a princess.

However each of us may have a chateau for a few nights, at least once in a life time, for that special occasion!

Invite your loved ones to an 18th century chateau and wine domain in the south of France, where you all will feel at home and you will all live those special moments.

Surrounded by immense vineyards and a 200 year old park, you will find accommodation for 60 guests in a baroque chateau complex.

The domaine offers not only a wedding reception venue but a holiday home for your family and friends.

This Chateau offers :
Two swimming pools, billiards, table football, bicycles and massage on site will entertain the group. The property offers also amazing wines made in its winery which you can taste during your stay. There are many local places to visit as well as walks and cycle trips from the property. You can even swim in the l'Herault river, which borders the domaine's vineyard.

100 guests can be seated in the reception room of the chateau while tables for literally hundreds can be set up in the park. Tables and chairs for 100 guests are included in the venue rental price.


The chateau will open its door for you at any time of the year except mid July to the end of August when it is fully booked by tourists.

At Chateau Rieutort they know that every couple and every wedding is different so you will find the managment flexible and happy to discuss the terms, conditions and prices. Ideally they will do it during your visit over a glass of the Rieutort wine.

You will not be left alone with all the planning. Together with the contract you will receive a dossier full of contact details of suppliers who made the magic for other brides at Rieutort.

Contact Karina, who speaks English, French and Polish (it may even be possible to meet with her in London outside of May to September). She will help you through the process and together with her team will go the second mile for you.
Feel like a million dollars in a fairytale chateau simply because you deserve it!