"An idyllic venue for your wedding"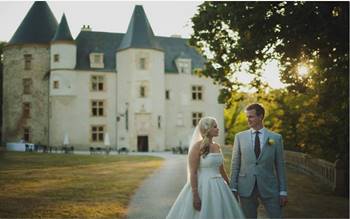 Chateau Saint Martory is a landmark building Nested in the Garonne river valley, at the footstep of the Pyrenees.
​
The château is situated at the outskirts of the village and surrounded by 40 hectares of tree plantations.

The entire property is for hire and is an ideal setting for your wedding.
Privacy, luxury and comfort are the essence of the Chateau.

We can accommodate up to 20 adults (plus children), in seven suites located at the chateau itself and three bedrooms located in the main farmhouse, 100 meters away.

A shuttle service on your wedding night can be arranged for your guests.

Reception All the outdoor spaces of the property and the farmhouse can be used to make each step of your wedding unique.

Ceremony and cocktail can be under the walnut in front of the chateau.

Dinner and Party at the farmhouse, either in the reception room (max 150 persons) or outdoors, in the courtyard (no limit).

Brunch or BBQ at the pool or under one of our barns.

The courtyard of the farmhouse is also a beautiful setting for the wedding dinner if weather permits. The square courtyard has an open barn where the dance floor can be set up and one aisle of the buildings has been converted into facilities.

Last but not least, a separate space inside the farmhouse's courtyard has been retrofitted to allow caterers to work efficiently.
​
Getting married in St Martory is easy in terms of logistics as the Toulouse airport is very well connected.

We will help with local accommodation and transportation as required. And we will also be pleased to help you organise activities ahead of the event, for example a wine tasting or a white water rafting experience.

Large weddings can be organised in Saint-Martory as long as a professional wedding planner is involved. The bride and groom are free to choose the professional they prefer but we will be happy to indicate a great wedding planner from Toulouse with whom we have worked and trust 100%, and who is fluent in English.