"Domaine de Grolhier, where exceeding expectations is the norm."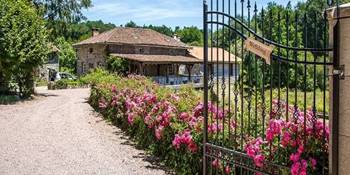 Domaine de Grolhier is a romantic 18th century watermill transformed into a wedding and group holiday destination in the Dordogne, South-West France.
With 18 bedrooms in 5 separate houses, around a common courtyard, sleeping 40 people and partner accommodation near by should your guest numbers be higher. With a heated swimming pool, hot tub, sauna and great facilities for groups, Domaine de Grolhier is the perfect setting for your wedding in France.
Privately owned since 2002, the owners have 17 years of experience arranging group holidays as well as organising wedding packages in France. We have a wealth of local contacts and know-how to ensure that no matter what our clients require, we can deliver. Take the stress out of your destination wedding in France and let our local knowledge and contacts smooth the way for you.
The 18th century hideaway situated in the heart of Perigord-Limousin Natural Park offers you the opportunity to savor the magic of the Dordogne countryside in an intimate and picture-perfect setting for a destination wedding in France. The property is within easy reach from the UK, low cost airlines fly to the near by airport of Limoges, from where it is an easy 50 minute drive to the location.
Our wedding packages include everything you need for your special day, so no need for costly third party hiring of tables, chairs, decorations etc.
Bi-lingual on site wedding planner will organise and book everything for you, ensuring that the wedding will run smoothly and most importantly is stress free for you.
The location and unique setting guarantees a very special wedding day, what ever you had in mind.
Please read through our reviews to get a real feeling of what we can offer at weddings in France at Domaine de Grolhier.
Best wedding venue ever! -FACT
Jo and Ted are two of the loveliest people we have met and their team are fantastic. Nothing was too much trouble and everything was so organised. Food was first class and surroundings are just beautiful!Thank you sooo much for making our wedding weekend so special the guests are still talking about what a great time they had!Can honestly say to anyone reading this review if you are looking for a place to hire as a holiday venue or a special place to get married this is the one!K & J xxx