The most exciting wedding band in France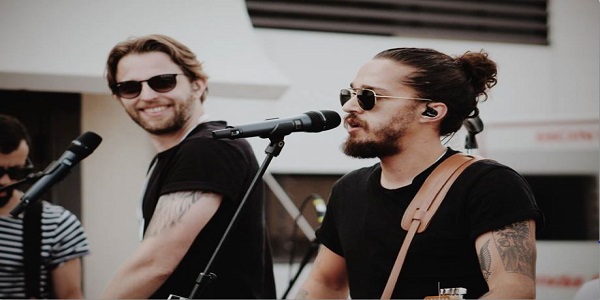 Four Kicks is an English-speaking pop rock band with many years' of experience in the wedding industry and endorsement from some of the most respected event planners in Europe.
Recognised for their quality sound and energetic shows, the band performs an impressive setlist featuring the latest hits combined with the best classic songs to ensure everyone is on the dance floor.
With their professional sound and lighting, quality instruments, backline and polished presentation, Four Kicks are hired to perform in prestigious venues throughout Europe for private and corporate events.
From the first point of contact to the final song, Four Kicks provides a bespoke service tailored to each client's needs and desires.
For your private event they will provide everything needed to entertain your guests, including a state-of-the-art sound system, lighting, a two hour live performance, background music before and after the show and even a DJ if required.
Four Kicks is an energetic live band based in the French Riviera, with a taste for the modern.
​They perform a vibrant set list made up of the best songs of the 60s, 70s, 80s and 90s, as well as an exciting demonstration
of today's music.
Traveling all over Europe, the band is recognised for their professionalism, quality sound and energetic shows.
They are highly respected in both the local scene and for private events. Four Kicks pride themselves on providing professional sound and lighting, quality instruments and backline.
​Our setlist includes Artists such as: Daft Punk, George Ezra, Bruno Mars, The Black Keys, The Strokes, Pharell Williams, Queen, Calvin Harris, The Killers, The Eagles, Arctic Monkeys, Eminem, The Rolling Stones, Blur, Van Morrison, Kings of Leon, The Beatles, Eric Clapton, Coldplay, The kooks, The Lumineers, Justin Timberlake, Robin Thicke, The Beatles, The Cure, Red Hot Chili Peppers, Oasis, Elvis and many more...
"We had both been so looking forward to your performance, but despite having watched your videos and heardyour demos, we were completely blown away by your set. Many of our guests commented that you were the bestband at a wedding they had ever seen.Others wanted to know who you were and where on earth we had found you." Angela and James.