Luxury Toilet Hire
Are you having a home wedding or needing some more toilets for your event, if so why not make sure you add some luxury for you and your guests to freshen up. Luxury toilets are perfect to keep that classy feel to your theme.
Luxury Loo's France
Fully stocked luxury portable toilet and shower unit hire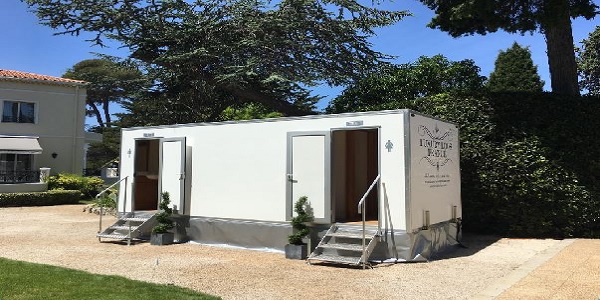 Our luxury mobile loos offer the very latest in contemporary mobile facilities and we endeavour to give you the very best customer service to make your event go without a hitch.

Our facilities are light, spacious and stylish. They look, feel and are spotlessly clean in every sense. Exactly what you should expect in a mobile toilet for your wedding or event. Our commitment to you is that we will not only meet your expectations, we will try our very best to exceed them.
Luxury Toilet Units
We offer three ranges of loos, the Garden Party Range which are best described as luxury portaloos. These come in pairs mounted to a trailer and can cater for up to 80 people over an eight hour period.
Luxury Shower Units
Our shower units are 4 bay luxury showers designed and manufactured by the same company that supply our loos. They have 4 luxury hot water showers and ample space for changing.