If you like to add some "wanderlust" flavor to your magical day, Julien Mueller is the perfect choice for you.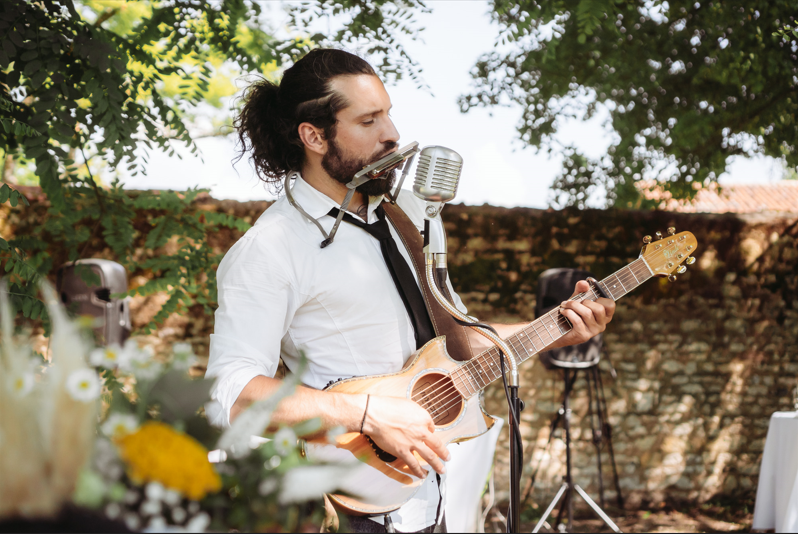 For the past ten years the troubadour had been roaming the planet on his bicycle while performing in
concert halls in over 25 countries
. His voice evokes memories of greats like Cat Stevens, Paolo Nutini, Jason Mraz, Tracy Chapman, and Jeff Buckley.
Treat yourself and your guests to a
musical journey through time
ranging from 1940s classics to contemporary hits with an
inspiring collection of over 250 songs from all around the world.
With his guitar in hand, Julien weaves tales of his travels and creates an intimate yet moving experience for your guests, which often finds its pinnacle in
joyful dances and sing-along
. Be assured to have the love for exploration ignited in everyone in attendance.
From his home in France, Julien regularly sets sail to animate nuptial events and festivals all over Europe. Being fluent in
English, French and German
, he is particularly suited for 
Multicultural Weddings
, where making your guests from all over the world feel "at home" is a prime goal.
For exotic
wedding locations
beyond the traditional church or registry office, Julien has got you covered: Equipped with a battery-powered setup, he's
ready to perform anywhere
- from the top of a mountain to the heart of a jungle - so that you can
celebrate your union in the setting of your dreams
, accompanied by your favourite melodies. Contact Julien today to make your special day unforgettable.
Unique musician with a sparkle

Do not hesitate to hire Julien for your events! His musical repertoire of several pages, the sound of his warm voice, the enthusiasm of a sparkling and pleasant personality. In addition, he will adapt to your culture and offer music in several foreign languages if you wish. During our wedding, all the guests really appreciated and liked listening to Julien. We never get tired of his art, moreover we will see each other again soon at another wedding.
This is the impact that Julien offers: he draws you into his fabulous and poetic world. Thank you very much for everything, Julien

Virginie R Married on 30/07/2022


An incredible moment and a radiant personality

Julien is simply incredible! In addition to a gorgeous voice and a great repertoire, he has a very beautiful personality. He accompanied us during our ceremony and then during the 2 hour cocktail party. All the guests loved it and so did we! Thanks to Julien, we experienced moments full of emotion and sharing. Thank you so much Julien !

Camille B married on 13/07/2022


Magic wedding with Julien

We discovered in La Rochelle... What a nice surprise when we learned that he also played for weddings! Julien gave a superb performance at the church and at the cocktail party of our wedding. A magical moment. He is talented, he has a sublime voice (in French, English, German) and he has a great aura! We recommend him 200%. Go for it with your eyes closed, you won't be disappointed! Thank you, thank you and thank you a thousand times over Julien for this superb day and these moments spent together! We look forward to seeing you in La Rochelle, in Brittany or in Germany!

Quentin M married on 27/08/2021