"My aim when shooting is to give you a set of images that will transport you back to the day; the emotion, fun and the love."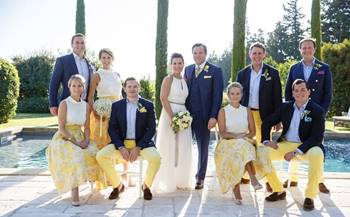 Named one of the best wedding photographers in London by The Evening Standard, Kerry now lives in the south of France.
Everyone will tell you just how quickly the wedding flies past and you'll want nothing more than to do it all over again. I want to give you that day again though my story-telling pictures.
I have shot weddings worldwide but now focus on weddings in the south of France.
Please visit my
website
 to find lots of examples of my style.
I mix very natural, documentary coverage with beautifully arranged groups and portraits that won't take you away from your guests for too long. My groups and portraits have an editorial quality, think GQ magazine or Vanity Fair. I choose gentle direction as opposed to anything cheesy.
I can cover your celebrations over a few days, welcome drinks and farewell BBQ's can be included along with the wedding.
In addition to weddings, I also shoot engagements.
I have won June bugs "Best Engagement Photographer Worldwide" 2 years running. So if you are flying to France to check out venues, why not have some gorgeous images shot at the same time?
Do get in touch, I'd love to hear about your plans.
"I've always been told that your wedding day passes in a blur but, thanks to you, our memories are so crystal clear it feels as though we experienced bits we didn't even see! It's not just the incredible imagery that you've captured, but all the personality and emotions that go with them; happiness, nerves, excitement and some serious LOVE. My brother-in-law made a wonderful point that nobody ever saw you and couldn't figure out how you got all the shots you did. After decades of dreaming about my wedding day photo on the mantelpiece, my childhood expectations have been exceeded. Thank you, from both of us. Abby & Darren xx