Skin23
Linzi Buckley Make Up Artist and sought after Skin Therapist.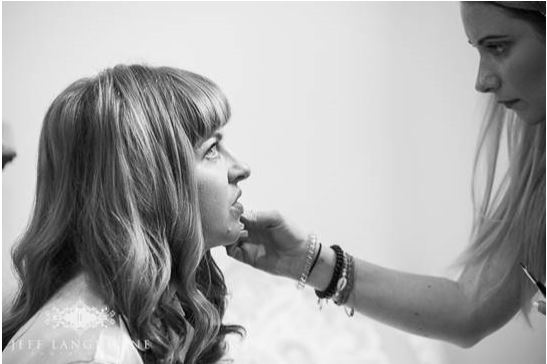 Owner Linzi, based in South West France, is a British makeup artist and sought after skin therapist. She has been in the industry for over 10 years and has developed her reputation working in the UK, New Zealand and now France.
Linzi is incredibly proud of the makeup studio and treatment room that she has established in the Dordogne. Based in the stunning 880 acre Domaine d'Essendiéras, Linzi is able to offer each of her clients a personal, professional and relaxed atmosphere and experience. Although having a base here, Linzi has travelled all over France, and further afield, to accommodate her bride's requests.
About Linzi … After attending an award winning makeup academy in Manchester, England, she started her artistry career working with Laura Mercier Cosmetics. From the Selfridges makeup counters her work progressed reaching many different aspects of the makeup world. Linzi's versatile approach has allowed her to work backstage in theatres, on music videos, at fashion shoots, in corporate editorial filming and of course, as a highly sought after bridal makeup artist.
Having a holistic approach means Linzi uses an arsenal of high-end mineral/organic makeup brands that are NEVER tested on animals! Whilst working as a skin specialist in a luxury holistic spa in NZ, Linzi discovered a love for cruelty free brands such as Becca Cosmetics, Skin Cancer Foundation approved Jane Iredale + Osmosis Color. Most recently, for the 4 years before relocating to France, Linzi had been working for the world's number one makeup artist Charlotte Tilbury. Here she gained invaluable + relevant tips and tricks of the trade. More importantly for her clients it enabled a rare chance to work alongside (and keep in touch with) some of the most highly regarded, current and talented celebrity and red carpet makeup artists in the world. She is constantly learning from the best!
Meet The Artist … I truly believe that every bride should be the very best version of herself. I aim to instil confidence into all of my clients by showing them ways to enhance and embrace their own natural and individual beauty for their big day. I trust that combining skill and expertise with a bride's ideas and dreams will absolutely always produce the most magical results.