"Because your wedding ceremony should be as unique as you are"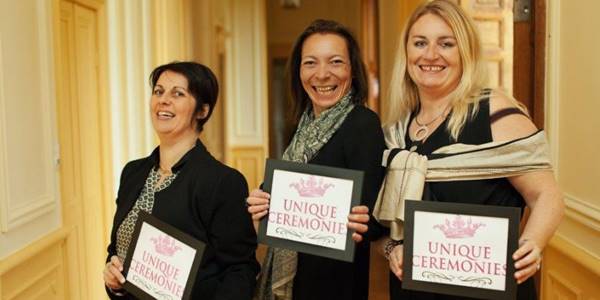 Dear Bride & Groom,
My name is Magali and I am the proud founder of Unique Ceremonies, which has been offering a truly bespoke celebrant service since 2010 to over 300 couples from all parts of the world.
Today, Unique Ceremonies is a team of 9 celebrants passionate about weddings.
7 of them speak both French & English perfectly and are experienced in the design & celebration of bilingual ceremonies with utmost respect, professionalism & humour.
If you are still looking for the ideal wedding venue, contact us anyway as we cover the most beautiful parts of France such as Normandy, Brittany, Dordogne, Provence & Occitanie. A Villa on the French Riviera, a Chateau in the Dordogne, a house on the Normandy coast or on the stunning Ile de Ré, wherever you decide to celebrate your union, to guarantee a truly tailored event, we take all the time necessary to know you, identify your expectations, contact some of your loved ones, write your story and design a ceremony to suit your tastes, your values, your story.
Unique Ceremonies specialises in the design and celebration of bespoke wedding ceremonies in France for couples who wish to use the services of professional and experienced wedding celebrants based in all parts of France.
We are convinced that each couple is unique, which is why we do not work from templates. We start from scratch and are keen to develop with them a privileged relationship which encourages them to confide in us and let us tell not just A story but their story. We guide them and their loved ones every step of the way and offer them our professional advice without imposing anything.
Mehdi and I were so pleased with our wedding ceremony. We were so happy to have Rachel as our celebrant. Rachel has been a joy to work with putting together the ceremony. We rate her a 10/10. We enjoyed every moment. We loved that Rachel spoke perfect French and English. Our French guests came up to us and asked where we found her because she spoke perfect French. Rachel listened to everything we wanted for the ceremony and turned it to reality for us. Such as the mention of my father not being with us and telling our guests what the meaning of love is to Mehdi and I. Rachel moved everyone from joy to happy tears was truly the ceremony we had dreamed of." Melissa & MehdiSamedi 18 Août 2018, Château des Bidaudières, Vouvray
"Dear Magali, I just need you to know that what you prepared will stay with us for ever. It was ultimate sorcery, magical and perfect. I can't believe what you managed it was perfect how you interwove the guest speakers into the ceremony. It was by far the best part of the day for me!  Thank you from the bottom of our hearts." Andrew & Mathieu,23 Juin 2018, Château de Walmath, St Laurent les Eglises (87)