Providing multiple kinds of wedding music for our clients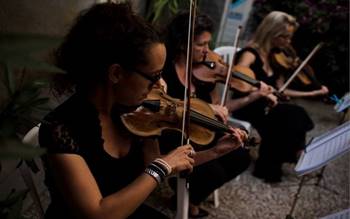 Wedding Music in France is a music agency that provides all kinds of music for our lovely wedding clients! We have solo acts (violin, harp, cello, guitar etc) string duos, trios, quartets up to small classical orchestras with opera singers, or jazz bands, pop bands, gypsy jazz – the list is endless. We can also source ballet dancers and clowns if you fancy something a bit different!
We have musicians all over France and our network is constantly growing.Whatever you have in mind we will aim to provide for you.
The fees depends upon location, length of time, style of music, whether amplification is needed etc so it helps us if you are as specific as possible with such details. Please indicate your budget.
We have been playing for weddings for more than 12 years and we love being part of such an important day in a couple's life. We really want to contribute to the magic of the day. If you have a special song you would like to hear that can be arranged too – please ask.
We generally play as guests enter to be seated for the ceremony, for the entrance and exit of the bride and couple. Sometimes we play songs and hymns, or for the signing of the register or candle ceremony. This is followed by music for the cocktail.
During dinner it's best to have amplification for whichever group you choose, as it can be loud when everyone is drinking and merrymaking!
We also have some Singing Waiters you could hire to make the dinner even more exciting! Or a romantic string duo with actor who recites love poetry and Napoleon's love letters between each course – please ask for details!
After dinner there may be a jazz/pop cover band followed by a DJ into the early hours.
Please get in touch and let us help you plan your music for one of the most beautiful days of your life!
We have proudly been supplying our international clientele with top-level elegant musicians for over 10 years. We enjoy providing exceptional service and help our clients realise and experience the event they have been dreaming of. We provide advice on repertoire, instrumentation, location, amplification and arrange pieces of your choice upon request.
Fluent in English, French and Spanish we aim to serve with a smile, and make having music at your event enjoyable and easy to organise.
We offer multiple music packages so that you can discover which offer best suits your needs, ideas or budget.
Not only has Caroline built up a large network of Musicians but also has a large 
repertoire
 of music to offer.
Having always had a profound love for string quartets, she created the group 
The Firebyrd Quartet
in 2008 in order to search for new rhythmic sonorities and to write arrangements that explore the relationship between string instruments and more percussive playing. With this quartet she plays tango, folk, funk and some jazz with the singer Victoria Rummler.